Thermia was the home planet of the Thermians, located in what is now the Klatu Nebula, it has long since been destroyed and much of the Thermian people wiped out.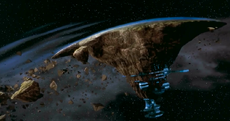 5 million years ago the Great Nebula Burst occured, an interstellar gas cloud formed by a supernova explosion devestated thermia and nearly destroyed it, creating what is now the Klatu Nebula. What is left of the planet has slowly been plundered for resources by the Sarris Dominion.
The Thermians built the Protector II with the intention of using it to search for a new homeworld. It seems though that after the defeat of Sarris the thermians focused their efforts on the creation of a new homeworld, aptly named, New Thermia.
In both the novelization and the screenplay Thermia is referred to as Theramin.
In the comic series Galaxy Quest: Global Warming its name seems to be misspelled as Thermi.
Ad blocker interference detected!
Wikia is a free-to-use site that makes money from advertising. We have a modified experience for viewers using ad blockers

Wikia is not accessible if you've made further modifications. Remove the custom ad blocker rule(s) and the page will load as expected.